Cathy is the Toy Shop seamstress. She stays busy mending everyone's clothing. Melvin and Uncle Fred keep her very busy.
Melvin has to check and double-check every saw blade, drill bit, metal cutter, wire cutter, and sanding machine in the Toy Shop. Daily rips and tears are common. Cathy once told Melvin that his breeches had more patches than original material.
Uncle Fred catches his clothes on the runners of the sleigh and latches in the barn and countless other things. So he brings her lots of needs, especially during the busy season.
Cathy can sew just about anything Santa and the crew ask for. This includes torn toys or baby doll's clothes.
She's made some very nice aprons for Mrs. Claus and Ginger. And, something Santa is so proud of is the warm and beautiful suit Cathy made especially for Santa.
The Story of "Cathy" and the Suit
It is very often said that clothes make the man. There are many qualities that one could attribute to a good man, however, for the point to be made here, we'll focus on the clothes.
Santa Scooby believes, with great certainty, that his magnificent suit surely makes him a pretty neat Santa. But there is more to this suit than meets the eye.

The beautiful shade of red. The faux arctic fox fur trim. And the real gold buttons. Sewn with great care. Much hand stitching involved.
The TLC my sister Catherine stitched into the suit has no adequate measure. The suit is a testimonial of her skill and love for her brother.
A Little History
Catherine was the fifth of seven children. Growing up in such a large family setting, Catherine stood out a bit. She was very proper and precise in word and deed.
Many years passed as the seven children grew to adulthood and launched themselves into the world, several having children of their own.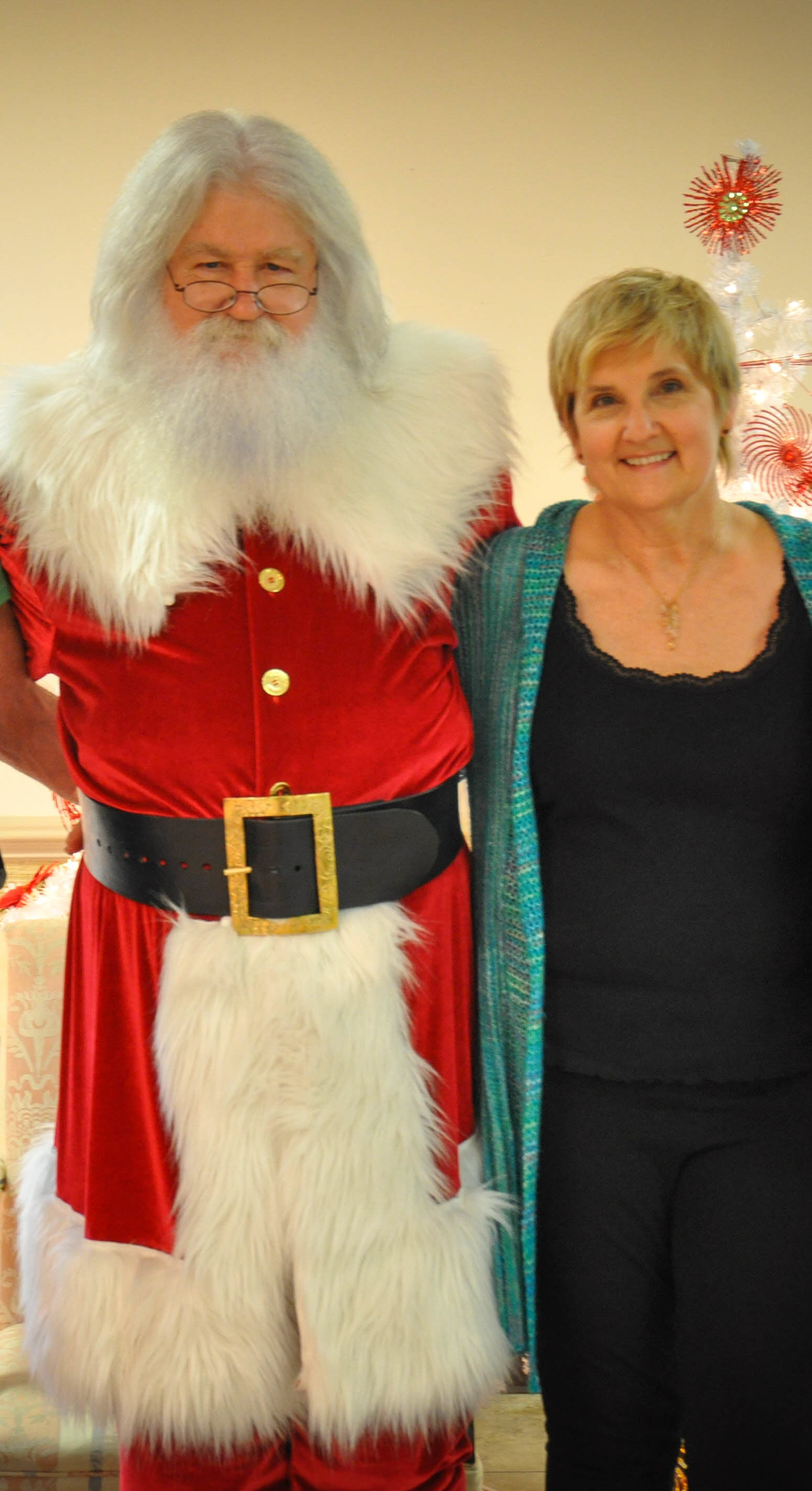 Fast forward to 2014. Catherine and l were, by that time, unfortunately, both divorced. At a sibling get together, and right out of the blue, we decided to meet on some future Sunday for lunch. This, we did. The Great Wall was her favorite. The Fish Market a close second. On a whim, after lunch one Sunday, we decided to see a movie. Thus was born "Movie Sundays". Over the ensuing months, we'd meet every month, or so, after Church, have lunch, and watch a movie. I'd pick one, she'd pick the next, and we'd just randomly pick from the marquee sometimes. Tyler Perry's "Madea" movies were her absolute favorite. I came to love them myself.
After a while, Catherine fell ill. Slowly, at first. She'd complain of a lack of energy or just wanting to sleep all the time. Eventually, we learned she had cancer. Catherine left this world, her family, and her big brother, on April 17, 2017.

I've filled the void of her passing with cherished memories of Movie Sundays. Everyone should try to have some set aside time for family members to reminisce and form a nice catalog of precious memories.